Whaleshark Swimming
Swim and snorkel with these amazing large but gentle whalesharks
Location: Tan-awan Oslob Cebu Philippines
Where can I do this?
Tucked away in the south of Cebu island is a fishing village called Tan Awan 15km south of Oslob. It has become famous in the Philippines, and now internationally, for the unique experience of spending some time snorkelling with Whalesharks.
This is not a wild free ocean lucky if you spot the Whaleshark experience, although they are completely wild and they are swiiming in the open ocean, the catch is that they are fed daily by the fishermen who once used to kill them.
Excited? then you probably want to know some useful information.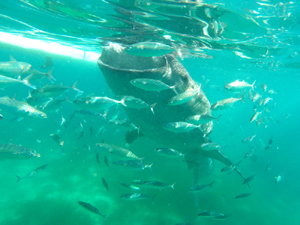 How does it work?
Its very easy, first remember that you are only allowed out important fact is that trips only run between 6 am and noon, after that its too warm for the whalesharks and they retreat to deeper water.
The whaleshark centre is in the village of Tan Awan close to Oslob, on arrival you will see a larger covered area with desks and chairs and on the walls charts/photos. Its not super organised but people will point out where to go to pay.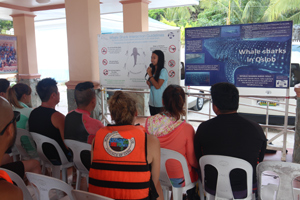 How to sign up
1/ The first desk has a book where you need to fill in a register with name and country of birth.
2/ The talk - a 'marine conservationist' (or intern) will then explain about swimming with the whalesharks, remember NO TOUCHING, keep distance, do not ride on the whaleshark, please be considerate of others and do not apply suntan lotion.
You have 30 minutes out with the Whalesharks.